I am smiling writing this post!
When I met up with Rachael and Brendan a year ago to discuss their wedding plans, they mentioned their dogs and how they wished we could include them in their wedding photos, but it all seemed a bit too difficult at the time. As we chatted more and I heard their Honeymoon plans for a 2 week holiday, just a short plane trip off the North East tip of Tasmania, we began to think about a doing a Honeymoon photoshoot with the dogs instead of an engagement photoshoot.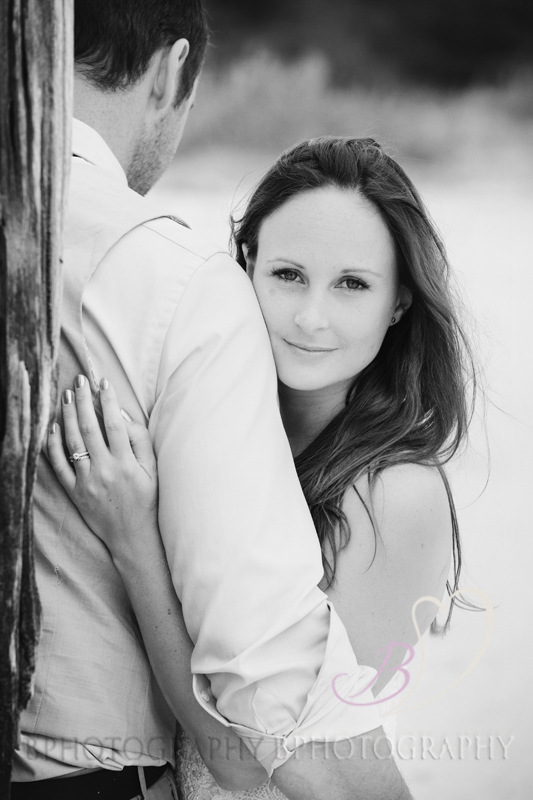 Over the last year our plan has evolved.
Rachael and Brendan were married on the 16th December at Brickendon, Longford. Such a beautiful ceremony, perfect weather and much love. Their wedding can be seen here http://bphotography.net.au/wedding-vows-with-peonys-roses-and-lace-at-brickendon_bphotography/
They left for Flinders Island on a private charter flight on Monday afternoon with Brendan's groomsman Jason, his partner Ashley and her son Kobi. Kate, the close family friend they were going to stay with on the Island, flew home with them from the wedding. They had 'Bear' their dog and a wedding dress/suit on board as well.
Gary and I joined them on Tuesday the 19th. It was such a fun and relaxing two days. Kate was so welcoming and we all pitched in helping to cook meals and clean up. We got to play with the young orphan wombats she raises and explore the Island. It was stunning and each place we stopped just so beautiful.
We all jumped into the four wheel drive and did some touring on the Tuesday morning and planned for our photoshoot. The sun was shining and it was beautiful and warm, but winds and rain were predicted later in the day, so we brought the timing forward from an evening shoot to a lunch time one.
We started at Lady Barron Beach with old pier posts jutting out at low tide. The sand was white and the water sparklingly clear. The boulders had orange markings and were striking backdrops to the photos. Rachael wore her rose tinged wedding dress, hair loose and walked the beaches barefoot. Brendan wore his pale blue shirt with the sleeves rolled up and his light tan suit pants and vest. 'Bear' was in heaven and ran around in circles and up and down the beach, just wanting to play. It was very romantic.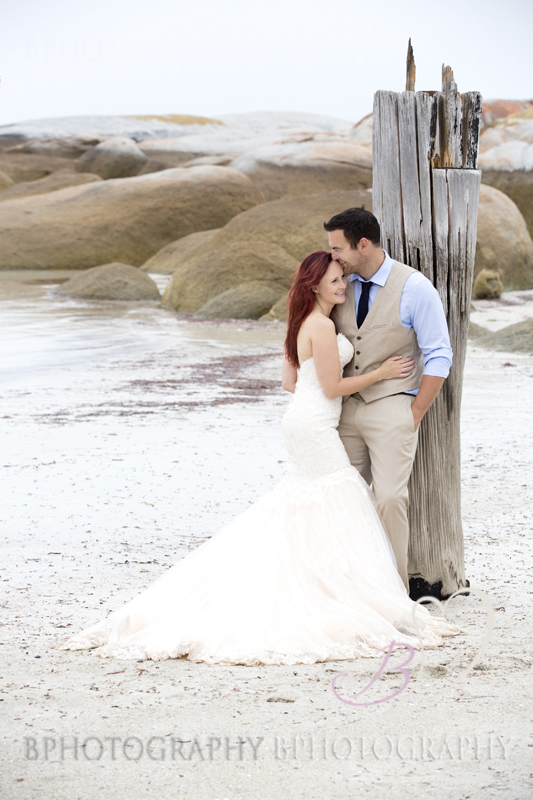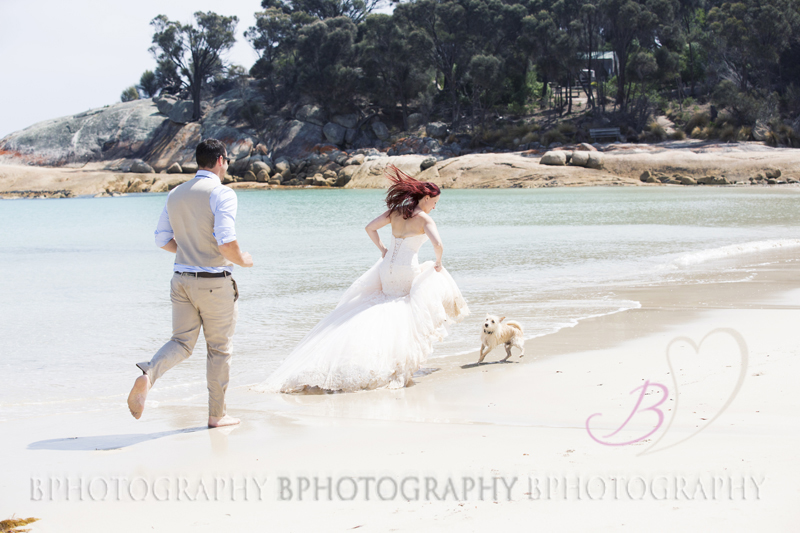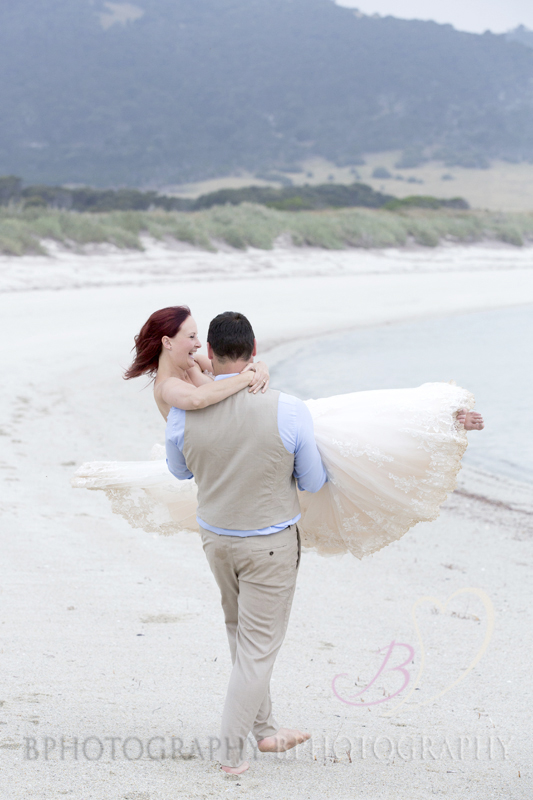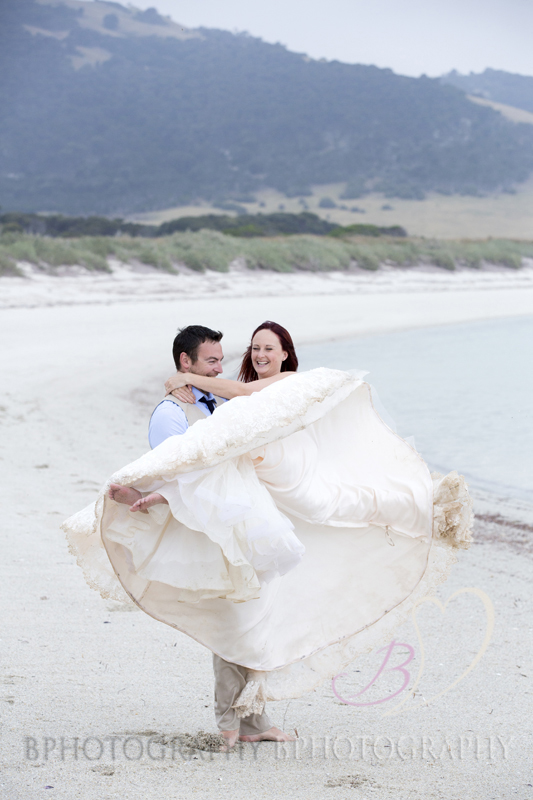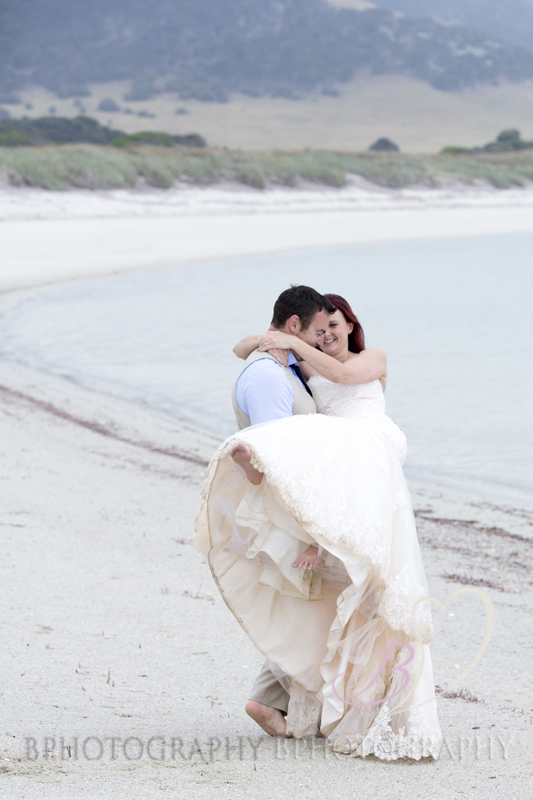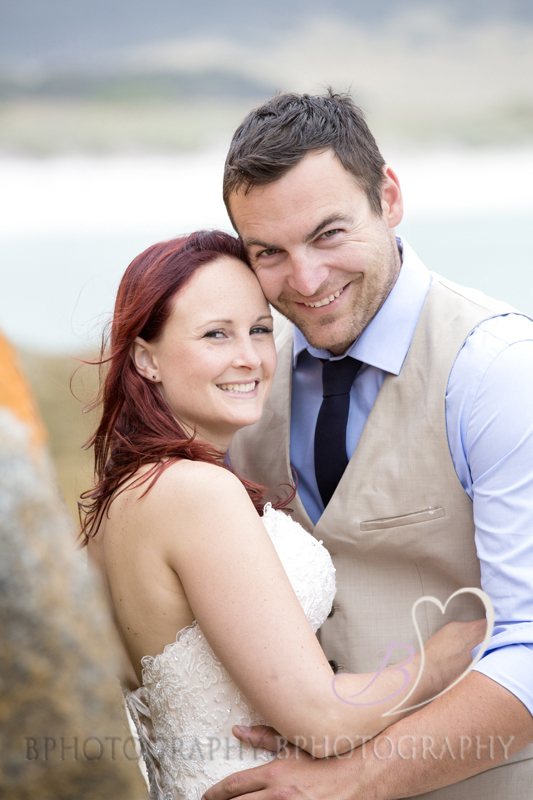 Then, as the tide came in and the wind began to rise, we moved to Trousers Point nestled below Mount Strzelecki in the National Park. It was a secluded and deserted stretch of sand. We could have been on a tropical island, not one stuck in the cold rugged Bass Strait! The water was blue green and warm, seriously warm! Rachael and Brendan and Bear played in the waters edge, then we climbed up onto the rocks and took photos with Mount Strzelecki covered in light low cloud as the backdrop.
You forget how heavy a wet wedding dress can be, even if it is just a few inches of the bottom when it is so full and has so many layers. Climbing the rocks was a little tricky to maintain Rachael's balance and at one stage the two of us nearly slipped. Luckily we could laugh about it. And the photos were so worth it.
Thanks for an amazing time, a wonderful opportunity and such fun company Rachael and Brendan. We loved gatecrashing your honeymoon and adored our 'Trash the Dress' Photoshoot on Flinders Island in a celebratory, romantic way. Thanks also for sharing your best friends, Jase and Ashley and for your wonderful hospitality dear Kate. We hope to visit again one day.
I would love to do more destination photoshoots. They are fun and I love 'creating the moment' in amazing surroundings and thinking on the spot. Watch this space …